2017 Tarmac SL4 $2359 – On Sale Now – $2006 – 54cm
The FACT 9r carbon frame combines lightweight performance and compliance to ensure that you receive the legendary climbing responsiveness and descending prowess you'd expect from a Tarmac.
S-Works FACT full carbon fork with tapered construction provides incredible front end stiffness and steering response for instantaneous accelerations and high-speed descents.
Significantly lighter than comparable wheelsets in its class, these tough Axis Elite wheels offer tremendous value in one smooth-rolling package.
2017 Roubaix SL4 $2459 – On Sale Now – $2091 – 54cm
The SL4 FACT 10r carbon frame has all of the road absorbing, engineered compliance that you'd expect from a bike born on the cobbles, yet its compact endurance race design provides all of the responsiveness and performance you need for long days in the saddle.
FACT carbon fork is optimized for stiffness and responsive steering, while road chatter and vibration are significantly reduced via our proprietary Zertz elastomer inserts.
A stiff, lightweight alloy Praxis Alba 2D crankset is there to punch well above its weight class, minimizing energy loss while you're hammering away on the pedals.
2017 VENGE VIAS EXPERT DISC
$
6149
–
On Sale Now  – $5225 – 56cm
The Rider-First Engineered™, FACT 11r frame design have made the Venge the stiffest, most aerodynamic bike that we've ever created. Every tube shape, trailing edge, and design cue was influenced by hours of testing in our Win Tunnel, computational fluid dynamics, 3D printed prototypes, and real-world rider feedback. And ultimately, this resulted in the fastest bike we've ever made.
Designed in our Win Tunnel, the fork features a FACT carbon construction that helps to cut through air like a hot knife through butter.
Shimano Ultegra hydraulic disc brakes provide exceptional power and modulation, finally marrying the Venge's unrivaled aerodynamic design with braking that excels in any condition.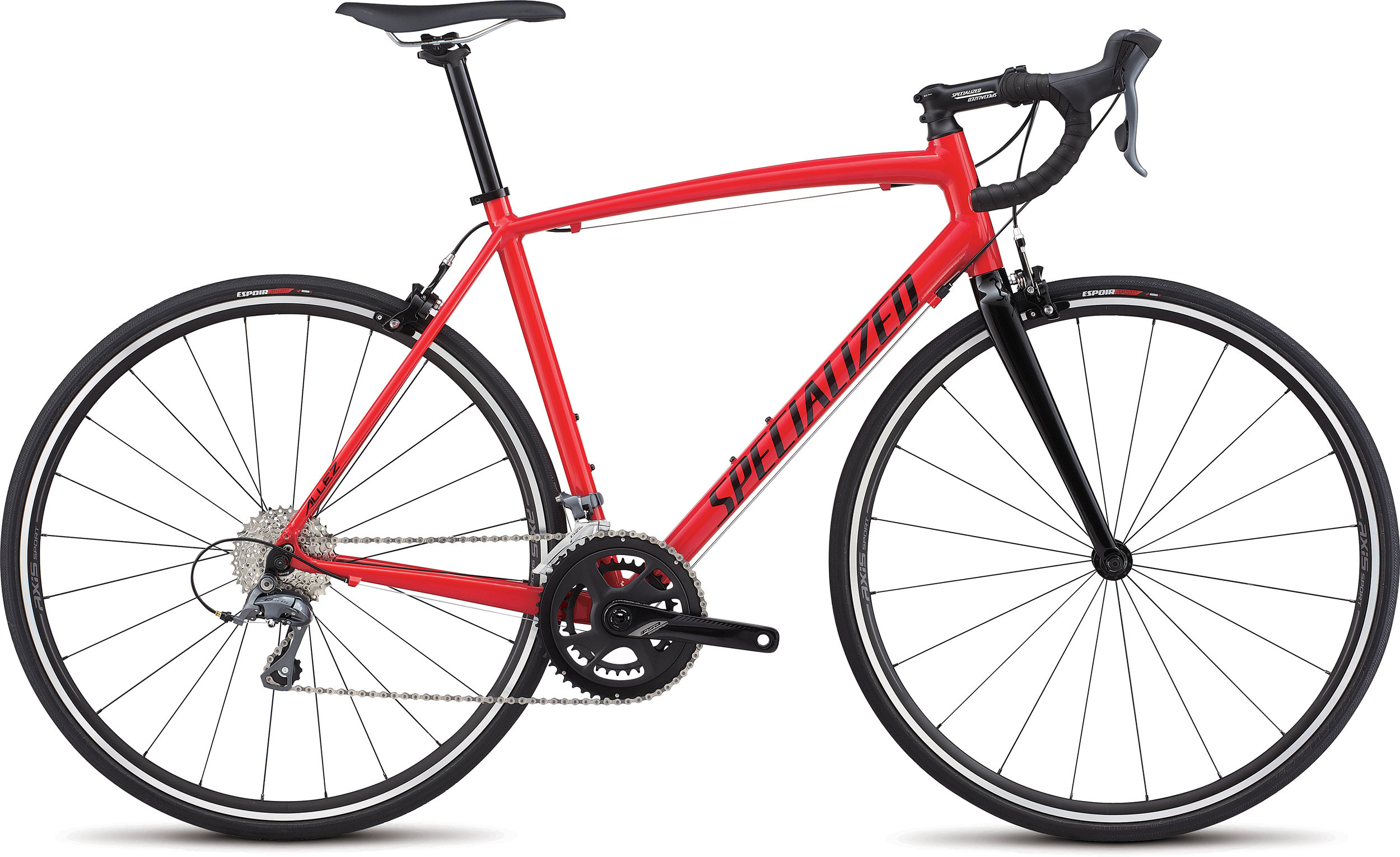 2017 Allez E5 – $949 On Sale Now – $807 – 56cm
E5 Premium Aluminum frame features fully manipulated tubing with smooth welds that increase stiffness and efficiency, while looking just as good as it performs.
A FACT carbon fiber fork provides incredible stiffness and front end steering response, while also efficiently absorbing road chatter.
Shimano Claris 2400 8-speed shifting is built to last over the long haul, and it's well-equipped to deliver precise shifts across a wide range of gears.
2017 Allez Sprint Limited Edition Frameset $1499
E5 Premium Aluminum frame with Allez D'Aluisio Smartweld Sprint Technology refocuses weld locations, allowing for more material to be placed where it's needed for increased stiffness and compliance where you really need it.
Our top-tier S-Works FACT carbon fiber fork provides incredible stiffness and front end steering response, while also efficiently absorbing road chatter.
The Venge FACT carbon fiber seatpost acts as a stiff, aerodynamic perch for your saddle.
2017 Diverge Comp $4299 On Sale Now – $3655 – 54cm
The Specialized FACT 10r carbon frame combines the lightweight performance and compliance of our top-end carbon production with a unique geometry that's designed to smooth out even the harshest roads for more confident and predictable handling.
FACT carbon fork w/ proprietary Zertz inserts absorbs and damps road chatter & vibration without compromising on the rigidity needed for performing at speed and tracking dutifully on the descents.
Roubaix Pro 2Bliss Ready 700×30/32mm tires provide extraordinary traction and suppleness for both the road and dirt, while a tubeless design minimizes flats and allows lower tire pressures to be run. Add to this a 120TPI construction, and there isn't a surface where these tires won't thrive.
2017 Sequoia Elite $2659 On Sale Now – $2260 – Med
The Sequoia is built from our Premium Cr-Mo, size-specific tubing. This ensures that every frame is strong, light, and capable, while every frame size rides exactly as we intended. This philosophy is furthered with our Adventure Geometry that provides ample confidence over rough and smooth terrain, alike. And lastly, we equipped this frame with fender & rack mounts to make sure you'll be well equipped whenever adventure strikes.
A beefy FACT carbon fiber fork is sure to take the sting out of harsh roads. And when you're deep into said roads, you'll be thankful for the extra water bottle mount found on its fork leg.
Hand-built Adventure Gear Hayfield wheels are cased in 700x42mm 2Bliss Ready tires to be burly and tough as a mule. It's the ideal wheelset for anyone looking to skip town and not look back.
2016 AWOL Elite Medium Reg $1999.99, on Sale now for $1400
The custom butted Cr-Mo steel frame provides plenty of stiffness, while still maintaining all-day compliance and comfort. Along with the predictable steering and confident handling of the Cr-Mo steel fork, the AWOL provides the perfect blend of versatility and performance.
The alloy, double-wall disc wheels can stand up to mile after mile of adventure, while the Specialized Trigger Sport Reflect tires' reflective stripe on the sidewall provides plenty of traction and visibility.
The forged alloy crankset with 46/34T front chainring combo is a rugged and reliable performer, and when coupled with the wide range of the Shimano Tiagra 11-34t rear cassette, it allows for easy pedaling over a wide array of conditions.
The Tektro Spyre mechanical disc brakes provide plenty of stopping power, regardless of the terrain or conditions.
Reflective graphics are strategically located on the bike in order to increase your visibility to other riders and motorists in low-light conditions.