2017 Ruby SL4  –
$2459 On sale now – $1722 – 51cm
Enjoy a comfortable and responsive ride with the lightweight Specialized FACT 9r carbon frame. Featuring Zertz to help reduce road chatter, it provides a responsive yet smooth ride with no compromise on performance.
The agile and responsive Specialized FACT carbon, full-monocoque fork features Zertz inserts to absorb road roughness and give you a smoother ride.
Power to the pedals is provided by the exceptional Praxis Alba alloy crankset. It's stiff and efficient, and the ramping of the chainrings ensures beautiful shifts between rings.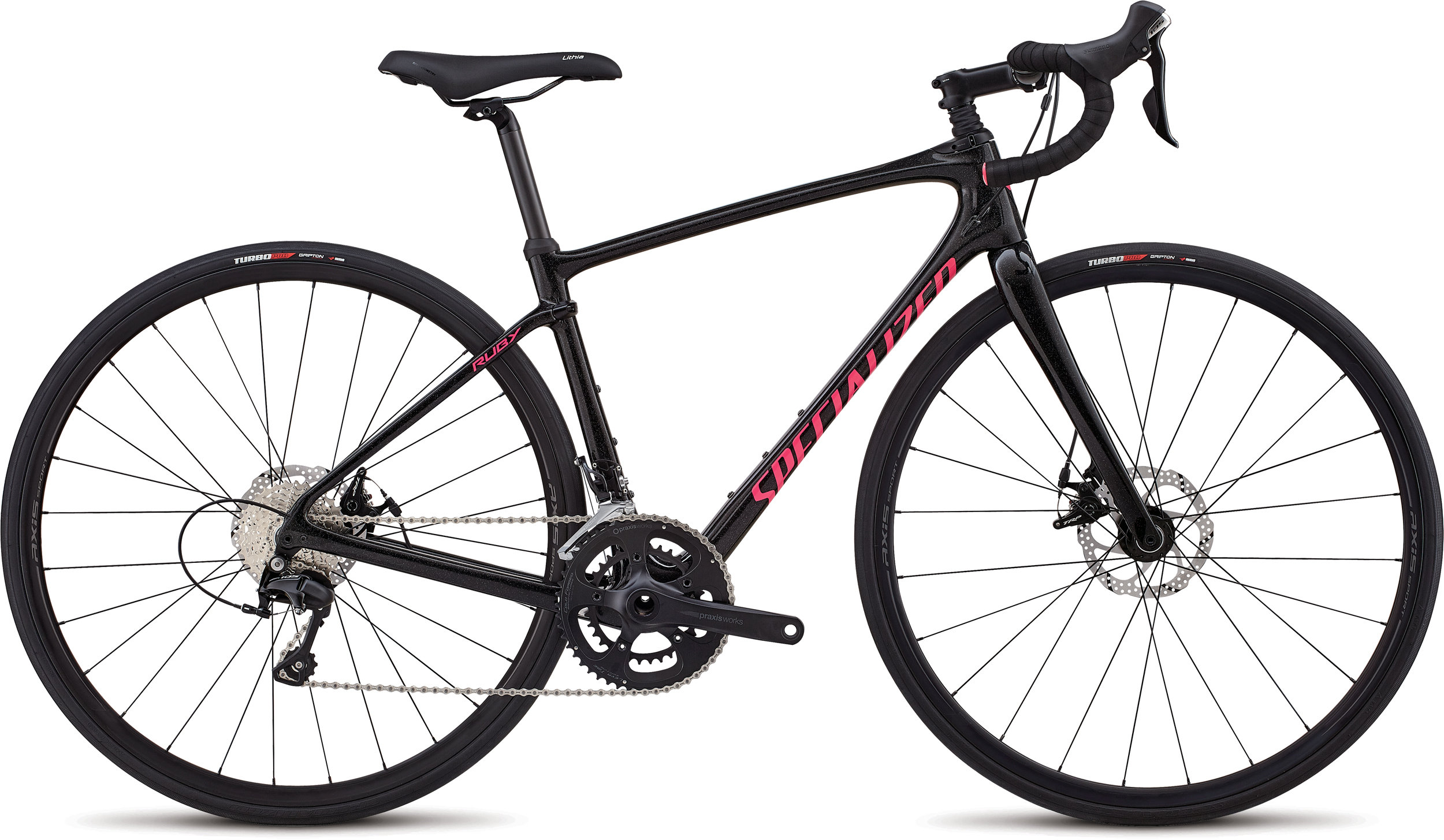 2018 Ruby Sport – $2869
Featuring our Rider-First Engineered™ design that ensures every frame size has the same legendary responsiveness and smooth ride quality that you'd expect from a Ruby. The FACT 9r frameset is exceptional in every way, offering the ideal blend of light overall weight and targeted stiffness. Meanwhile, the all-new Future Shock "suspension" system at the cockpit delivers a revolutionary degree of comfort and control.
The Ruby Disc fork is built from our extraordinary FACT carbon fiber for supreme stiffness, strength, and reactivity, while a thru-axle design only stands to bolster all of the above.
Comes equipped with a 25lbs spring installed (color: black, weight: medium), and also includes both 13lbs (color: blue, weight: soft) and 40lbs (color: yellow, weight: firm) springs that can be installed to match the terrain you're riding.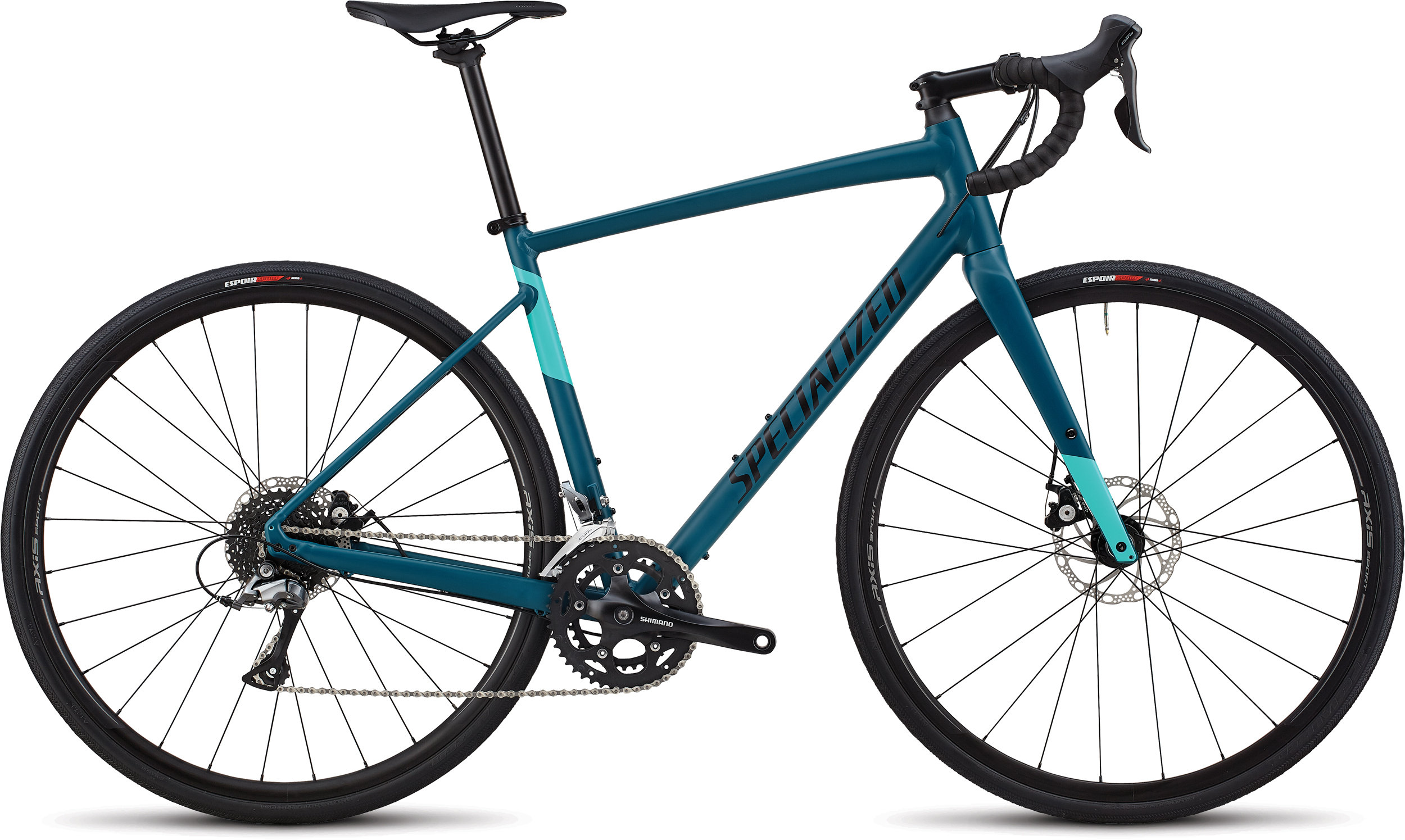 2018 Diverge E5 – $1349
Our Premium E5 aluminum frameset features our comfortable, yet confidence-inspiring, Open Road Geometry. Front & rear thru-axles are also included, making this Diverge the ultimate tool for your next adventure.
The lightweight FACT carbon fork is plenty stiff, aiding in handling, rigidity, and an overall light weight.
Featuring a reflective sidewall, two layers of our BlackBelt flat protection, and a durable compound, the Espoir Sport tires are an appropriate addition to the Diverge's adventure-ready heritage.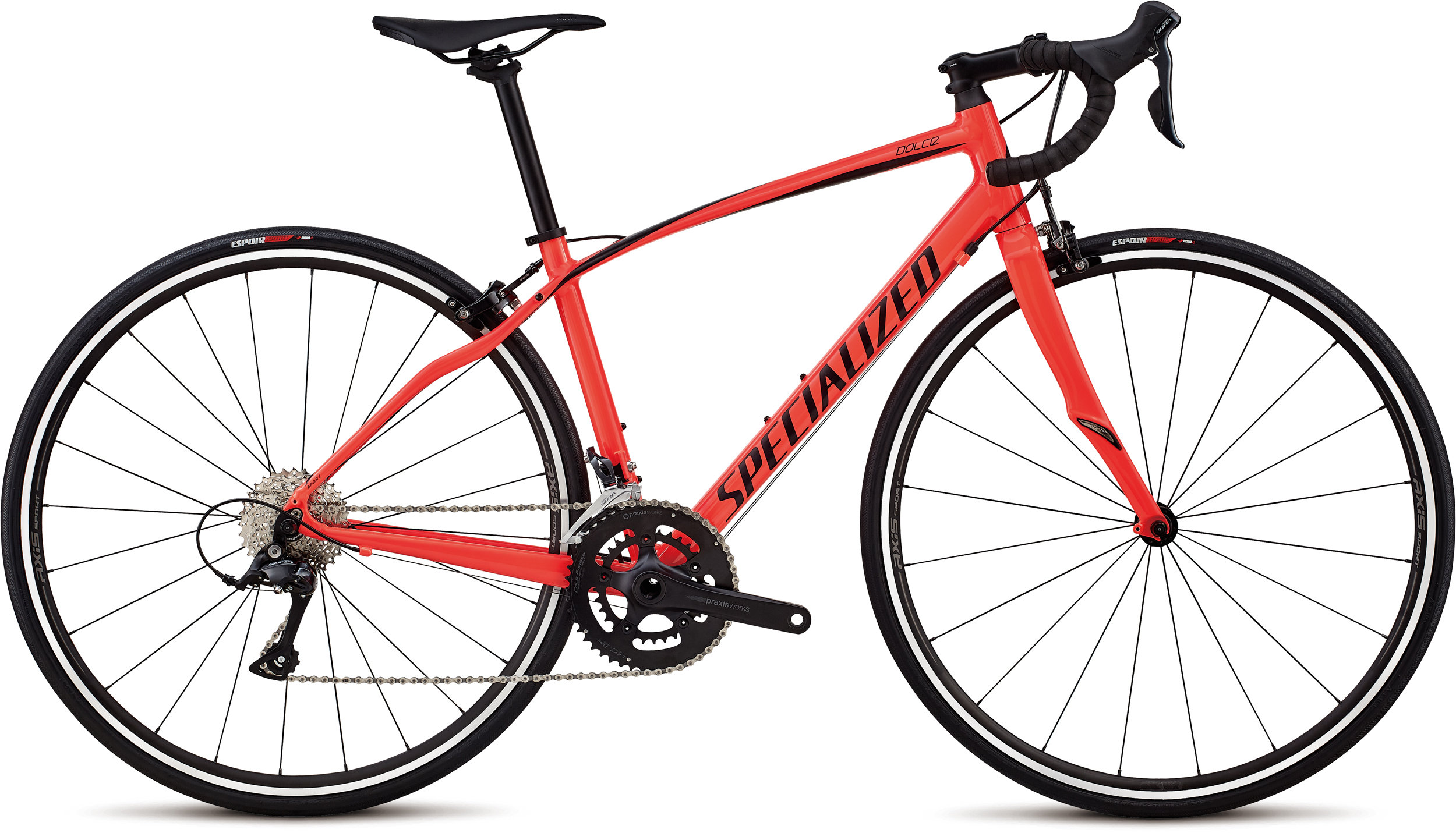 2018 Dolce Sport – $1299
The Dolce Elite's sturdy and reliable A1 Premium Aluminum frame is built with Women's Endurance Geometry and delivers two important benefits. This geo improves stability and handling, giving you confident control when climbing and descending, while also putting you in a less aggressive and more natural ride position. The result? Hours upon hours of comfortable riding.
The agile and responsive FACT carbon fork features Zertz inserts to absorb road roughness and to give you a smoother ride.
Shimano Sora 9-speed shifting is nothing short of legendary. It's built to last over the long haul, and it's well-equipped to deliver precise shifts across a wide range of gears.